2021 Webinar: AASLD's Thought Leaders Series: How I Manage My Practice
Product not yet rated
Recorded On: 10/20/2021
This 60-minute discussion, held Wednesday, October 20th and hosted by AASLD President, Dr. Ray Chung, FAASLD of Massachusetts General, included interviews with NAFLD/NASH experts, Dr. Mary Rinella, FAASLD of Northwestern University and Dr. Anna Mae Diehl, FAASLD of Duke University. Our experts delved into how they manage their practices in fatty liver, how their institutions and multidisciplinary teams work together, diagnostic and treatment solutions to NAFLD, and more.
This webinar is the first of a new program, AASLD's Thought Leaders Series: How I Manage My Practice. These webinars will feature well-known leaders providing important clinical insights around specific liver conditions and a first-hand account of their experiences.
Anna Mae Diehl
Anna Mae Diehl, MD, FAASLD is currently the Florence McAlister Professor of Medicine at Duke University. She is a physician scientist and academic hepatologist. Her lab-based research activities focus on basic mechanisms of liver repair and complement her translational/clinical research programs in alcoholic- and nonalcoholic fatty liver disease. In the past two years, Dr. Diehl she has co-authored ten peer-reviewed manuscripts on these topics.
Her basic research program has enjoyed uninterrupted NIH RO1 support since 1990 and she has been the Principal Investigator for the NASH CRN UO1 clinical research program at Duke since its inception over 15 years ago. Dr. Diehl's research contributions to the fields of regenerative medicine, alcohol-related liver disease and NAFLD have been acknowledged by election for membership in the American Society for Clinical Investigation, Interurban Clinical Club, Association of Academic Professors and Johns Hopkins University Society of Scholars, as well as awards such as an NIH/NIAAA Merit Award, the NIAAA Mendelson Award, the Duke Distinguished Faculty Award, and the AASLD Distinguished Scientific Achievement Award.
Dr. Diehl has been an associate editor/editorial board member for major journals such as HEPATOLOGY, Gastroenterology, GUT, The American Journal of Physiology, The Journal of Clinical Investigation, Nature Reviews, and eLife. In addition, she has served as a standing member of several NIH study sections and scientific advisory councils for NIDDK, NCI, NIAAA, the American Liver Foundation, the Alcoholic Beverage Medical Research Foundation, NIDDK Digestive Disease Centers at Baylor, USC and U Pittsburgh, and NIAAA Alcohol Research Centers at U Louisville and the Cleveland Clinic.
$i++ ?>
Mary E. McCarthy Rinella
Mary E. Rinella, MD is a Professor of Medicine at Northwestern University Feinberg School of Medicine and is the Director of the Northwestern Fatty Liver Program. She received her medical degree from the University of Illinois. She completed her residency training in Internal Medicine at the University of Chicago and her fellowship in Gatroenterology and Hepatology at Northwestern University, where she remains on faculty. She studied basic mechanisms of steatohepatitis with the support of the American Gastroenterological Association and the National Institute of Health for 10 years. Currently her focus is in clinical research in the area of non-alcoholic fatty liver disease/NASH both before and after liver transplantation. Her primary clinical focus within the NASH realm is on the associations between NASH and other metabolic co-morbidities, emerging NASH therapeutics and the recurrence of NASH after liver transplantation. She established a multicenter consortium to study the risk factors for liver disease recurrence and outcomes of patients transplanted for NASH cirrhosis (NailNASH Consortium). Dr. Rinella is actively involved in the American Association for the Study of Liver Diseases where she currently serves as Councilor-at-large on the Governing Board. She has held several national leadership roles in the field of NAFLD including Chair of the AASLD NAFLD Special Interest Group (SIG) and most recently as Chair of the AASLD NASH Task Force. As Chair of the NASH Task Force, she is charged with fostering research collaboration and advancing best practice through collaboration with other medical societies, federal agencies and patient advocacy organizations.
$i++ ?>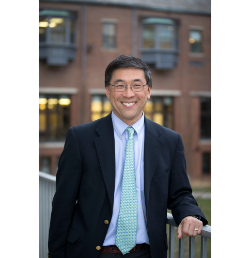 Raymond Chung (Moderator)
Raymond Chung, MD, FAASLD is Director of Hepatology and the Liver Center, Vice Chief of Gastroenterology and the Kevin and Polly Maroni Research Scholar atMassachusetts General Hospital. He has been an internationally recognizedresearcher in the areas of HCV virology and pathogenesis. He directs an NIHCooperative Center for Human Immunology centered on HCV, and is co-PI of theHarvard HBV Consortium of the NIH HBV Research Network. He is contact PI of hisDivisional T32 Training Grant, and holds several NIH R01 grants and an NIH K24Mentorship Award.
He was recently Associate Editorof HEPATOLOGY and has previously served as a Councilor at Large for the AASLD.He has also served as co-Chair of the AASLD/IDSA HCV Guidance panel which ischarged with issuing treatment recommendations for hepatitis C. He has authoredmore than 300 original articles, reviews, and editorials.
$i++ ?>
Key:
Complete
Next
Failed
Available
Locked
AASLD's Thought Leaders Series: How I Manage My Practice
Recorded 10/20/2021